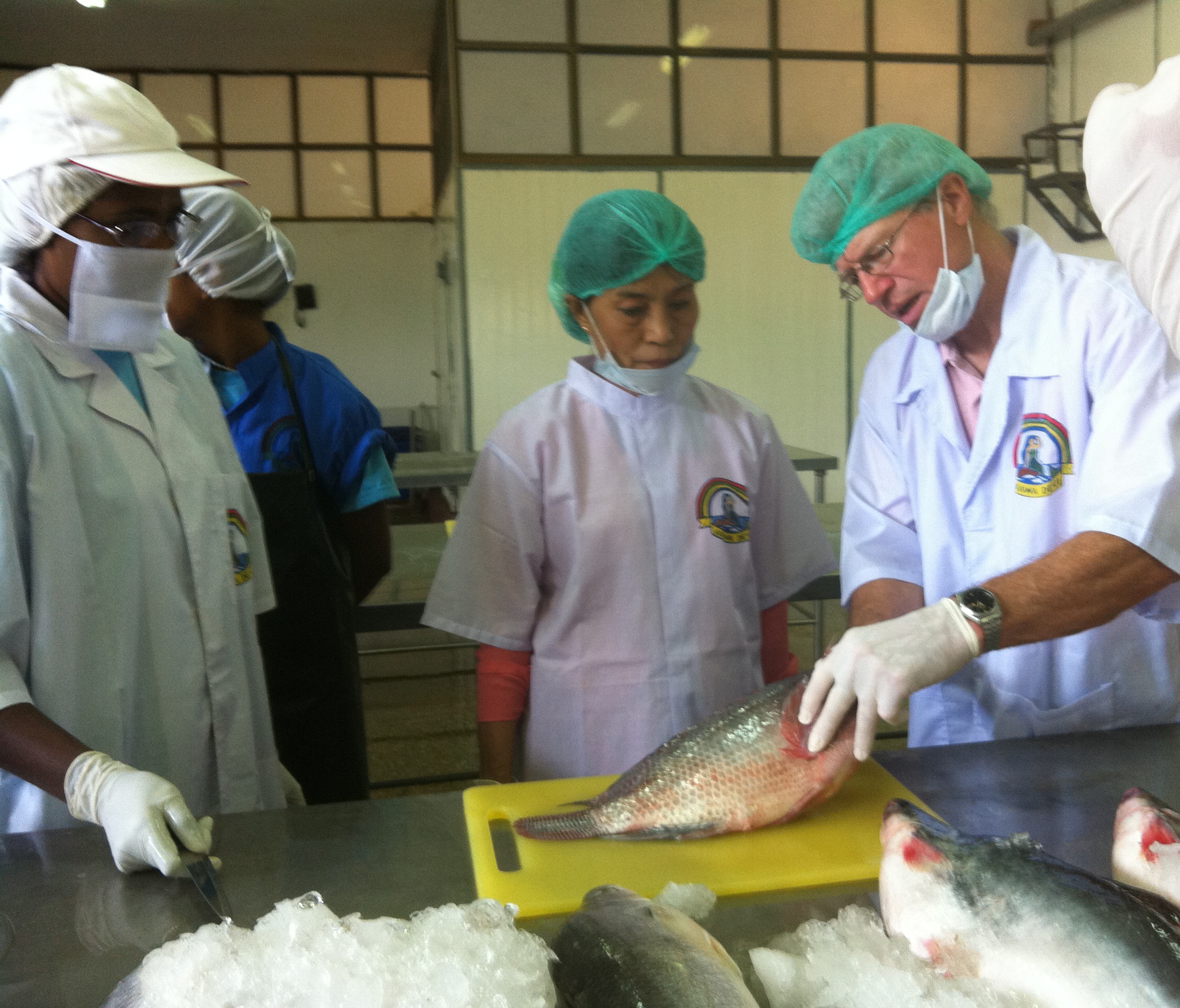 Dr. Woiwode demonstrating Tilapia product form at the AnawaDevi Processing Plant, Yangon, Myanmar, 2014.
In Dr. Woiwode's career as a fish producer, a constant theme was not only to produce the finest, healthiest fish, but to effectively guide the fish product into the market once it is produced. AquaMatrix's aquaculture systems are designed around a specific Product Definition, that size of fish or shrimp to be marketed. By necessity of system design, the Product Definition has guided all infrastructure requirements and intensity of management, and resulted in a prescribed volume of a certain size of a given species per year.
Because the AquaMatrix team designs the fish culture facility from the final Product Definition backwards to determine necessary infrastructure and management, we also require a deeper, fundamental knowledge of Fish Processing, which enables the final product to compete in specific markets.
Starting in the late 1970's, for over two decades, Dr. Woiwode maintained a close, reciprocal, professional and personal relationship with the Principals of Fish Breeders of Idaho, who operated their Fish Processing Plant for channel catfish and tilapia. Through that relationship, as Dr. Woiwode and his team continued to design, build and operate aquaculture facilities throughout the world, he became increasingly and intimately knowledgeable regarding product entry into market, and the fish processing procedures that would optimize that product marketing effort.
For example:
In East Africa from 1993-1999, Dr. Woiwode developed market entry analyses for black tiger prawns to be produced in Tanzania, including processing requirements and shipping protocol into the European Union and the United States. These market and product form analyses, with 5 years of monthly financial projections, were presented in the series of Business Plans developed for Tantex Sea Farms, Inc.
In the Philippines from 1988 to 1997, AquaMatrix under the direction of Dr. Woiwode co-managed black tiger shrimp production facilities that produced final processed product (de-veined fresh and frozen tails) sold into the Japanese market.
For the U.S. Department of Agriculture Foreign Agriculture Service, Emerging Markets Program, Dr. Woiwode was Principal Investigator of the market entry analyses of Pacific Threadfin from Hawaii into mainland China and the Philippines in 1997-1998. The publication resulting from this effort is "The Feasibility of Exporting the high value fish Pacific Threadfin (Polydactylus sexfilis) from Hawaii into China and the Philippines", July, 1998. Utilizing the analyses, templates and guidelines provided in the document, chilled threadfin test product moved from Hawaii into China.
In 1998, AquaMatrix was awarded the Design and Construct contract for the new Sheridan College Aquaculture Facility. This was a high-density commercial tilapia production facility, with fish marketed to local and regional restaurants. The design of the new building included a state-of-the-art Meats Laboratory, with a Fish Processing Facility. From 1998 through the spring of 2001, AquaMatrix, under Dr. Woiwode's direct guidance and supervision, designed and constructed the Sheridan College Aquaculture Facility and the Sheridan College Fish Processing Facility. The Fish Processing Facility, the first within the State of Wyoming, was a hand-fillet line, producing boneless, scaled, skin-on or off product. The Processing Facility underwent U.S. Department of Agriculture FSIS (Food Safety and Inspection Service) and HACCP (Hazard Analysis and Critical Control Point) procedures and certifications.
In 2001, AquaMatrix, under Dr. Woiwode's direct guidance and supervision, began to manage the high density Tilapia Production Facility and the adjacent Fish Processing Facility in the Meats Lab. Our Product Definition was 600-1000 g fish. This range of fish provided lunch-size fillets (from the 600-700 g fish) and dinner-size fillets (from 800-1000 g fish) for the white tablecloth restaurant trade. For this industry, our fillets needed to be boneless; and the chefs mostly preferred skin-on for their oils, though they requested scales to be removed.
AquaMatrix continued the tilapia production and processing relationship with Sheridan College, and marketing to restaurants, from 2001 through 2007.
In November/December, 2004, as part of the U.S./West Africa Free Trade Agreement, Dr. Woiwode guided commercial fishers and large fish processors from Senegal, The Gambia and Mauritania to U.S. FSIS standards of sanitation and HACCP requirements for fish processing, leading to product entry into the United States. As a direct result of this initiative, representatives from the three countries were represented at the largest US seafood trade show in Boston. All three countries have confirmed orders generated from this initiative.
During this project initiative in West Africa, Dr. Woiwode noted that a few of the most advanced fish processors were pre-cooking and foil wrapping high-value fish fillets, primarily scombrids (tunas) in simple sauces or oils for export to the European Union. These products commanded a premium price structure, often as high as 13-14 Euros/kg, with an extended shelf life (3-4 years) while at room temperature, bypassing difficult international cold-chain shipping requirements by eliminating product perishabilility. This experience triggered the following processing and marketing initiative:
From 2005 – 2007, Dr. Woiwode was Principal Investigator of the marketing effort of our tilapia fillets from the United States into the Ukraine. The project was funded through the U.S. Department of Agriculture Foreign Agriculture Service, Emerging Markets, Value Added Producer program. We utilized 100 g boneless fillet portions, and applied one of three recipes: Mediterranean, Asian and Tropical. The fish were cooked and sealed in retort packaging, providing a shelf life of 3–4 years at room temperature. The products were met with wide approval and acceptance in Ukraine.
2012 Khulna, Bangladesh. As consultant to the USAID Farmer to Farmer program, Dr. Woiwode provided training to the Fish Processing, General and Line Managers at the Rupsha Fish Processing Plant, including FSIS sanitation and HACCP critical point requirements. Dr. Woiwode processed Tilapia and Pangasius spp. to various sample product forms, including boneless fillets and skinned backbone-in products for export to the United States.